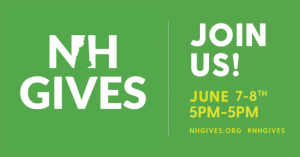 NH Gives – an initiative of the NH Center for Nonprofits – is a powerful, statewide 24-hour online fundraising event that is designed to build community, connect donors to local nonprofits and generate excitement about the nonprofit sector.
Donate June 7 through June 8, 2022.
Bookmark our Linda's Closet NH Gives organization page for June 7, view options to donate, and save the date! We greatly appreciate your support.
The NH Center for Nonprofits is a 501(c)(3) nonprofit, statewide association dedicated to providing programs and resources that support nonprofit organizational capacity building and to partnering with sector leaders, businesses, and the broader community to elevate the visibility and status of the nonprofit sector.
5K Walk/Run
We hope to hold the Annual Linda's Closet Walk/Run in late summer/fall of 2023. Next year's Walk/Run will help to celebrate over 20 years of operation for Linda's Closet.